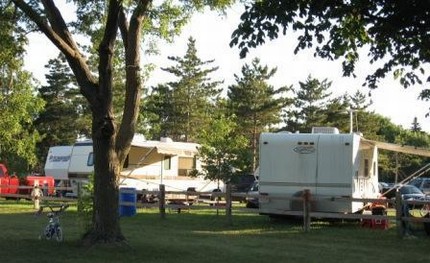 Westerman Park is home to a 14 site campground where family and friends coming to town are welcome to stay. Campsite rates are $20.00 per night or $380.00 a month.
The camping pads each have electricity with a restroom and shower facility available. A dump station is located at the park, and a Campground Host is available to meet your camping needs!
The campground opens May 1 - and closes October 1st.
Reservations can be made for the up-coming season starting on January 2 of each year. The campground is a popular place for our annual Fourth of July Celebration so make your reservations early!
Reserve your spot online today!
Camping is permitted only in areas designated for camping.

Electrical hook-ups are available only to campers registered on an electrical site. Extension cords may not be run from one campsite to another.

When two units occupy a site, both must pay camping fees. Double-ups may or may not be available at all campsites due to pad lengths or closeness in proximity to other sites. Check with City Hall before doubling any campsite.

Campsites must be re-registered or vacated by 4 p.m.

Between May 1 and September 30, the parks close from 11 p.m. to 6 a.m. Quiet hours also follow these times. Please consider others in the park at all times. Disturbances caused by loud music or disorderly conduct can lead to expulsion from the park.

Pets must be on a leash no longer than 10 feet. Pets (except service animals) are not allowed in swimming pool or in any park buildings. Owners must clean up after their pets.

The speed limit in the park and recreation area is 10 miles per hour. Please be cautious in campgrounds and other busy areas. Be especially alert for children.

Campfires are allowed only at designated campsites and in approved fireplaces, stoves or grills.

All types of fireworks are prohibited in the city limits.

Don't be a litterbug. Please place all garbage and trash in its proper receptacle.