December 7, 2023: The library's Wi-Fi and public computers will be down from 8am-5pm for maintenance, we are sorry for the inconvenience.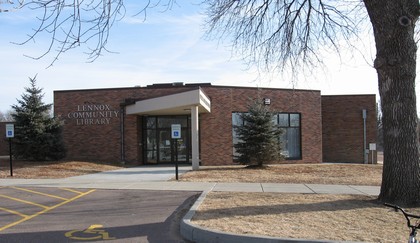 The Lennox Community Library is a beautiful building located at 208 W. 5th Avenue. The library is a joint venture with the Lennox Elementary/Middle School library. The public entrance is located on the west side of the building with parking available. The library has a separate adult reading area and computers that are available for public use. If you have any questions about the library, you may contact the library at 605.647.2203 ext. 4034 or email lennoxlibrary@cityoflennoxsd.com
During inclement weather, the Library maybe closed for the safety of our staff and patrons. You can always call to see if we are here before you adventure out.

605-647-2203 opt 6
Lennox Community Library Bylaws


You can access the Lennox Community Library (Lennox Middle School) catalog anywhere! Simply click here . If it is not available, send an email to Audrea.Buller@k12.sd.us
South Dakota Titles to Go!
LIBRARY HOURS
Monday
9:00 a.m. - 5:30 p.m.
Tuesday
9:00 a.m. - 5:00 p.m.
Wednesday
9:00 a.m. - 5:00 p.m.
Thursday
9:00 a.m. - 5:30 p.m.
(Oct - Mar)
9:00 a.m - 7:00 p.m
(Apr-Sept)
Friday
9:00 a.m. - 5:00 p.m.
Saturday
9:00 a.m. - 12:00 p.m.
Sunday - Closed
Did you know you can use the community room in the library to hold events, meetings or get togethers? Its equipped with a large screen TV, that you can wirelessly remote in or use an HDMI cord. We simply ask for a $20 refundable deposit at the time of signing the agreement This room can be used anytime during regular business hours or after hours. You may contact the library for more details/information.